Sunday, February 12th, 2012
We are building and testing our Android Application, as part of a larger schedule to get things out. So, this will be a quick update.
CAD Model Design – the order of drafts and fillets…
You may not be designing a dozen models a week, so this may not concern you much. But when you do, drafts come first and fillets next. If you find yourself in the need to apply different draft angles, which is a bit atypical, then the larger drafts come first.
Similarly, larger fillets come first! This is the order in which you should create the models in the design tree. Take a look at the example below: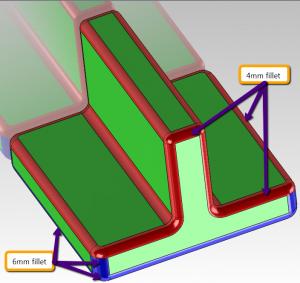 [Click on image to enlarge]
In this example, the larger fillets are 6mm, and the smaller fillets are 4mm. Yes, it is a simple enough example that they could have the same radii, but this is a demonstration for the situation you will run into when in your designs. As you can see above, everything appears in order. This is because when the parametric model for this component was built, the larger 6mm fillet was applied first, and then the 4mm fillet was applied.
Now, let us see what happens if this order was reversed, that is, the 4mm fillet had been applied first, and then the 6mm fillet was applied: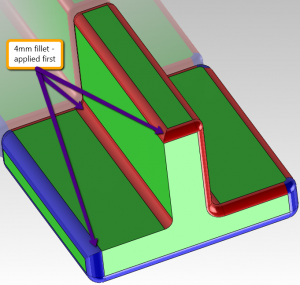 [Click on image to enlarge]
As you can tell, creating the smaller fillet first causes quite a bit of havoc. This can potentially cause sharp corners and other potential errors, or simply cause the model to lose fidelity and fail!
You can create a similar example for drafts. If you have accidentally created them in the wrong order, you might be in luck if your model is more symmetric. In a future episode, we will show you how to re-order features in the design tree or design history. If you are using a parametric modeling program such as SolidWorks, SolidEdge, Creo or Inventor, you can look up the help files.
Send us feedback to tips [at] designably.com or leave comments with your thoughts!